The goal behind "reproducible builds" is to ensure that no deliberate flaws have been introduced during compilation processes via promising or mandating that identical results are always generated from a given source. This allowing multiple third-parties to come to an agreement on whether a build was compromised or not by a system of distributed consensus.
In these reports we outline the most important things that have been happening in the world of reproducible builds in the past month:

First mentioned in our March 2021 report, Martin Heinz published two blog posts on sigstore, a project that endeavours to offer software signing as a "public good, [the] software-signing equivalent to Let's Encrypt". The two posts, the first entitled Sigstore: A Solution to Software Supply Chain Security outlines more about the project and justifies its existence:
Software signing is not a new problem, so there must be some solution already, right? Yes, but signing software and maintaining keys is very difficult especially for non-security folks and UX of existing tools such as PGP leave much to be desired. That's why we need something like sigstore - an easy to use software/toolset for signing software artifacts.
The second post (titled Signing Software The Easy Way with Sigstore and Cosign) goes into some technical details of getting started.
There was an interesting thread in the /r/Signal subreddit that started from the observation that Signal's apk doesn't match with the source code:
Some time ago I checked Signal's reproducibility and it failed. I asked others to test in case I did something wrong, but nobody made any reports. Since then I tried to test the Google Play Store version of the apk against one I compiled myself, and that doesn't match either.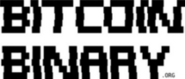 BitcoinBinary.org was announced this month, which aims to be a "repository of Reproducible Build Proofs for Bitcoin Projects":
Most users are not capable of building from source code themselves, but we can at least get them able enough to check signatures and shasums. When reputable people who can tell everyone they were able to reproduce the project's build, others at least have a secondary source of validation.
Distribution work
Frédéric Pierret announced a new testing service at beta.tests.reproducible-builds.org, showing actual rebuilds of binaries distributed by both the Debian and Qubes distributions.

In Debian specifically, however, 51 reviews of Debian packages were added, 31 were updated and 31 were removed this month to our database of classified issues. As part of this, Chris Lamb refreshed a number of notes, including the build_path_in_record_file_generated_by_pybuild_flit_plugin issue.
Elsewhere in Debian, Roland Clobus posted his Fourth status update about reproducible live-build ISO images in Jenkins to our mailing list, which mentions (amongst other things) that:
All major configurations are still built regularly using live-build and bullseye.
All major configurations are reproducible now; Jenkins is green.

I've worked around the issue for the Cinnamon image.
The patch was accepted and released within a few hours.

My main focus for the last month was on the live-build tool itself.
Related to this, there was continuing discussion on how to embed/encode the build metadata for the Debian "live" images which were being worked on by Roland Clobus.

Ariadne Conill published another detailed blog post related to various security initiatives within the Alpine Linux distribution. After summarising some conventional security work being done (eg. with sudo and the release of OpenSSH version 3.0), Ariadne included another section on reproducible builds: "The main blocker [was] determining what to do about storing the build metadata so that a build environment can be recreated precisely".
Finally, Bernhard M. Wiedemann posted his monthly reproducible builds status report.
Community news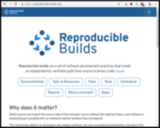 On our website this month, Bernhard M. Wiedemann fixed some broken links […] and Holger Levsen made a number of changes to the Who is Involved? page […][…][…]. On our mailing list, Magnus Ihse Bursie started a thread with the subject Reproducible builds on Java, which begins as follows:
I'm working for Oracle in the Build Group for OpenJDK which is primary responsible for creating a built artifact of the OpenJDK source code. […] For the last few years, we have worked on a low-effort, background-style project to make the build of OpenJDK itself building reproducible. We've come far, but there are still issues I'd like to address. […]
diffoscope is our in-depth and content-aware diff utility. Not only can it locate and diagnose reproducibility issues, it can provide human-readable diffs from many kinds of binary formats. This month, Chris Lamb prepared and uploaded versions 183, 184 and 185 as well as performed significant triaging of merge requests and other issues in addition to making the following changes:
However, the following changes were also made:
And, finally, Benjamin Peterson added a --diff-context option to control unified diff context size […] and Jean-Romain Garnier fixed the Macho comparator for architectures other than x86-64 […].
Upstream patches
The Reproducible Builds project detects, dissects and attempts to fix as many currently-unreproducible packages as possible. We endeavour to send all of our patches upstream where appropriate. This month, we wrote a large number of such patches, including:
Testing framework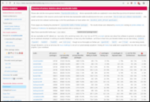 The Reproducible Builds project runs a testing framework at tests.reproducible-builds.org, to check packages and other artifacts for reproducibility. This month, the following changes were made:
Contributing
If you are interested in contributing to the Reproducible Builds project, please visit our Contribute page on our website. However, you can get in touch with us via: